The Chateau Report: The Best Elopement Venues Close to Paris
June 24, 2020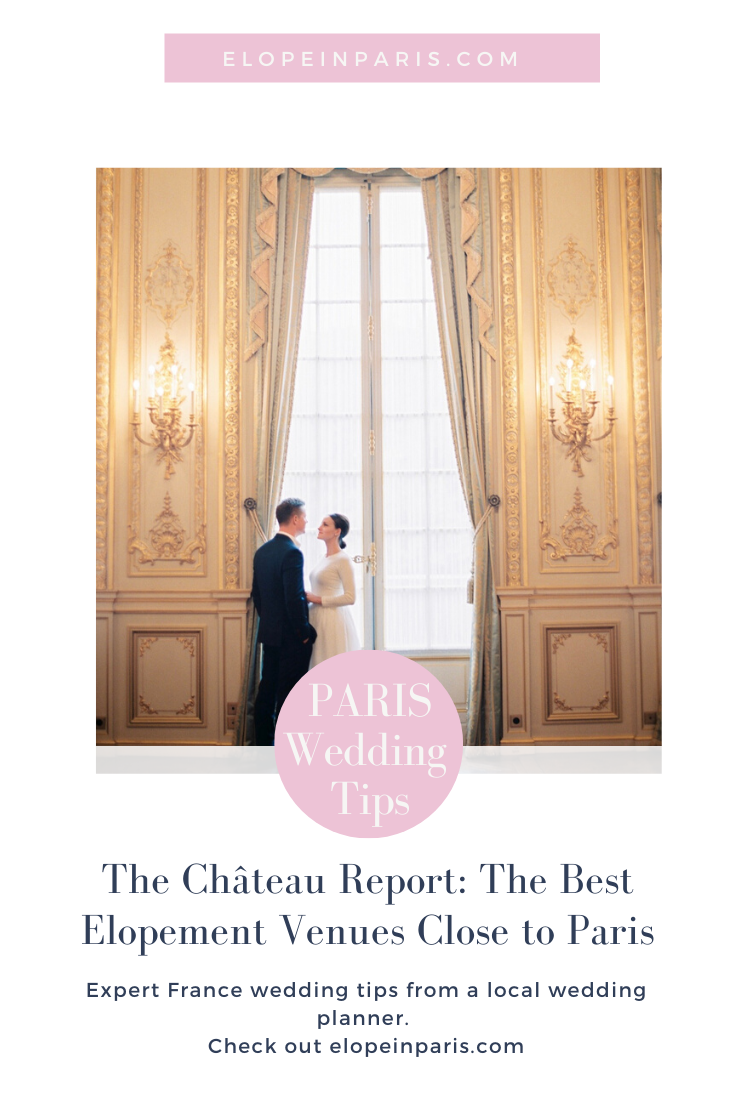 Want to elope close to Paris but not inside the city? Luckily, you're choosing to elope in France, which means there are simply hundreds of châteaux to choose from for a venue, with plenty of different styles and amenities to suit any taste! Never fear if you're new to château-searching, because we've rounded up some of our favorite dreamy chateaus that are intimate in setting and easily accessible from Paris.
1. Château de Santeny
About one hour away from Paris lies the beautiful Château de Santeny in Santeny, France. The Château, though not as old as some in France (it dates back to the 19th century), is elegant and refined. Foliage surrounding the chateau makes a beautiful backdrop for an outside ceremony, but the inside is just as grand! Definitely add this aristocratic château to your list when you're looking for venues.
2. Château de Bouffemont
Prepare to be dazzled by the beauty of this château, just outside of the Saint-Denis area and about an hour away from Paris. And the most exciting thing? You and your significant other or wedding party can stay at the château for several nights, freeing you from the hassle of trying to make it to the ceremony on time!
3. Château de Courtomer
With this château closer to three hours from Paris, we'd recommend an overnight stay if you choose this venue. Significantly older than some of the others we've suggested, Château de Courtomer dates back to 1047, very close to one thousand years of history! This idyllic spot does not fall short of expectation, with beautiful courtyards and elegant, spacious rooms.
4. Château de Dangu
Another Château with nearly one thousand years of history is Château de Dangu, nestled a little closer to Paris at just under two hours away. If you're looking for a château with a Versailles-like feel, this one is the one. Beautiful hardwood floors, large gathering halls, and baroque-style decoration make for an aristocratic indoor backdrop to your ceremony! But that's not all this lovely spot affords–the grounds are just as stunning!
5. Château de Villette
A little over an hour away from Paris is the elegant Château de Villette in Condécourt, France. Prepare to be dazzled by this gorgeous estate, complete with extensive grounds, a private swimming pool, and a beautiful interiors. Château de Villette also boasts an impressive art collection, blending baroque-era décor with modern amenities. Dream elopement venue? We think yes!
6. Château de Varennes
Complete with a private chapel, Château de Varennes is a gorgeous spot for an elopement! Located an hour away from Paris, this beautiful castle is nothing short of a dream, with a tennis court, swimming pool, and a lavender garden all accessible to use for photos.
7. Domaine Château d'Ermenonville
If you want to feel like a princess, we think we've found you "The One." This beautiful château is probably one of the most fairytale-like places you'll ever visit (complete with a moat around it!), and about 40 minutes from Paris! Whether for fun or for photos, we recommend you take a boat trip out around the estate.
8. Château de Montgobert
About a 90-minute trip from Paris, this lovely château boasts light-filled and spacious rooms, a garden perfect for an intimate ceremony, and forest-like grounds. This château, built in the 18th century, belonged to Emperor Napoleon I's sister Pauline and reflects the refined architecture of the Napoleonic era.
9. Château de Champlatreux
We've shown you the princess castle and the Napoleonic-era estate. If you're still not thinking they're grand enough, look no further than Château de Champlatreux. About half an hour from Paris (and fifteen minutes from Charles de Gaulle Airport), this 18th century estate is complete with colorful baroque rooms, stables, a coach house, and a stunning courtyard.
10. Château de Chantilly
And here we have it. Perhaps one of grandest châteaux we've recommended, complete with a gallery that rivals a room in the Louvre. Château de Chantilly, the estate of the son of Louis-Phillippe, is just under an hour away from Paris and simply transports you to another era. With absolutely stunning interiors and grounds, this gorgeous castle is quite possibly one of the most beautiful places to choose from as you're searching for the perfect venue.