Five French Items To Add To Your Home
June 27, 2020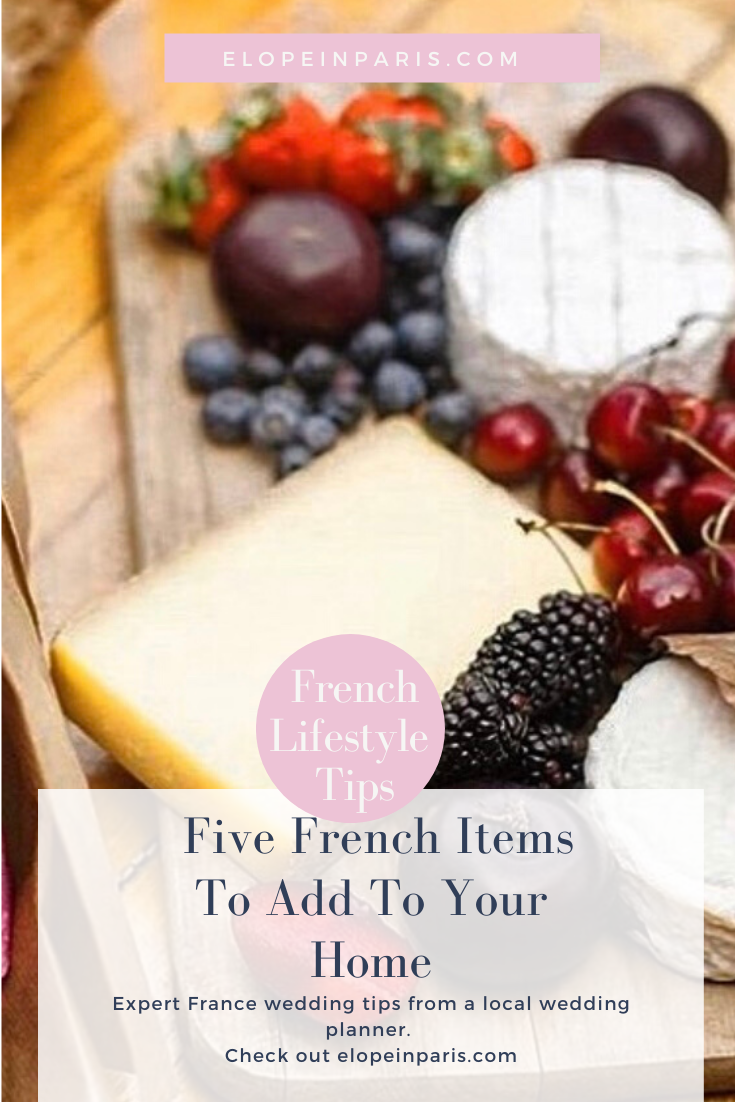 Especially if you elope in France, that experience will always remain with you and be a part of your new life with your significant other! When you're planning decorating your home together, why not bring a little French inspiration into it? If you're looking for some ideas, you're in luck: we're sharing five essential French items to add to your home.
1. Cheese board
What makes more of a French-inspired statement than an elegant cheese board? We love how it simply begs for some cheese and baguette to be placed on it! Find our favorites here and here.
2. French napkins
What makes more of a simple, elegant statement than a napkin with a French-inspired pattern? We think these simple stripes and these linen ones are perfect for your table!
3. Wine decanter
If you've spent any time in France, you know that correctly storing wine is part of what makes it taste so good! That's why many French homes store their wine in decanters, which allows the beverage to breathe properly; it oxygenates the wine and gives it a more mellow taste. Store wine this way in your home so it's ready to pour when guests arrive! We love this one or this more modern take on the classic.
4. Porcelain Plates
Level up your table setting with beautiful French porcelain plates! This makes even the most casual dining feel more elegant. Choose from countryside-style porcelain or this more refined look.
5. Sel du Geurande
One of the easiest ways to give your home (especially your kitchen + wellness routine) an upgrade? Replace your regular table salt for Sel du Geurande, special sea salt harvested in France using a centuries-old method. Always make sure the Sel du Geurande you purchase is imported from France for authenticity, like this one.