Paris Elopement: Five things NOT to do!
May 19, 2020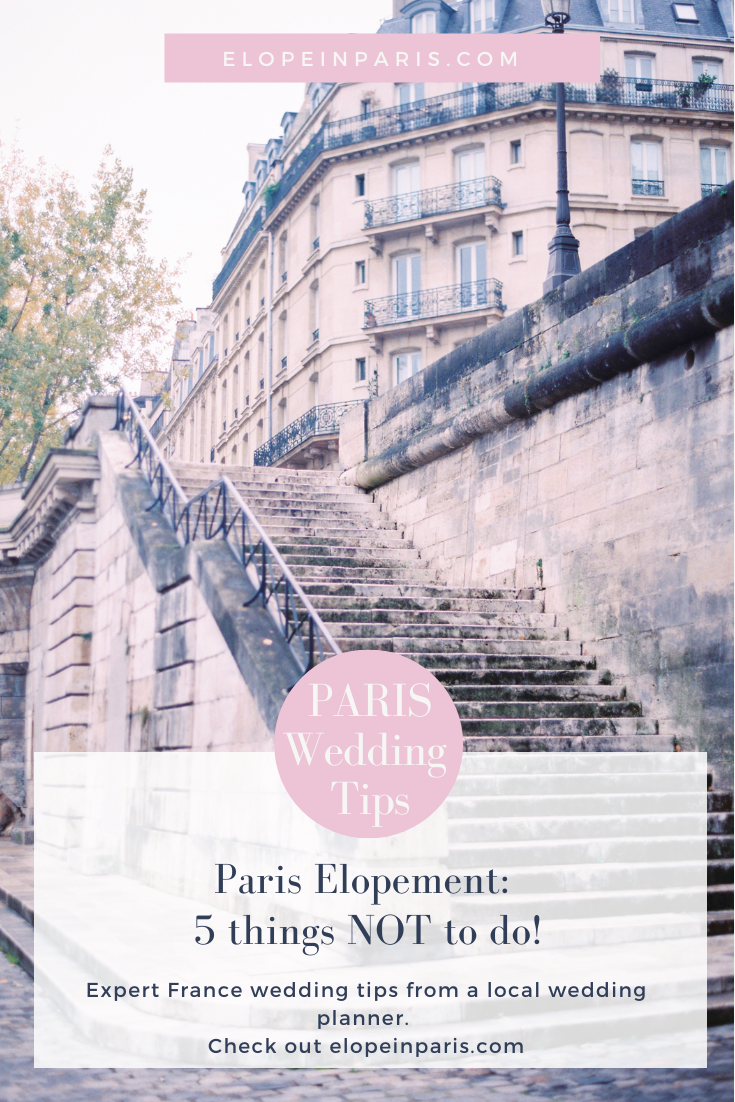 If you're reading this, you're eloping to Paris! Toutes nos félicitations!
You're one of the fearless destination brides and grooms, perhaps nervous, excited, and you want everything to go smoothly, both on your big day and in the days leading up to it.
We love to keep things upbeat and dreamy, but offer down to earth advice and are here to be your planners and offer invaluable tried and true tips!
That's why we've compiled a list of five things to not do on your Paris elopement as you start to think about how to elope in Paris.
1. Don't forget a PLan B Wedding location
This is Paris. If you're familiar with this beautiful city, the cobblestone roads, beautiful architecture, sidewalks crepes and Michelin starred restaurants… one of its least beautiful aspects is its unpredictable weather.
"Paris weather," as it is referred to, can change rapidly.
That's why we recommend that you have more than one ideal location option picked out for your ceremony, especially if it's outdoors. When you plan a wedding with Elope in Paris, we make sure to always go over a second or "backup" option that works with your theme and budget.
2. Don't pack your dress or suit in your checked bag.
We've all been there. We get to our destination and whoops! our checked bag isn't there with us. It happens.
Don't let this happen to the wedding dress you spent hours picking out or your perfectly tailored suit. Instead of checking the bag, try putting your dress or suit in a carry-on type of luggage that's able to stay with you throughout the entire flight (or flights). Kindly let your airline staff know ahead of time that you'll be traveling with your wedding dress or suit and they'll take care to either place it in the cabin or in overhead luggage storage, depending on luggage size.
Don't fret – we have a steamer on hand to work out any wrinkles on the day of!
3. Don't try to "wing it" without a local Paris wedding planner.
If you're wanting to elope in Paris, it makes the most sense to have a wedding planner local to Paris.
Hiring an experienced Paris wedding planner that's familiar with local culture and customs is the best way to ensure a smooth-running wedding planning process (and one that saves the most money too). Especially if you are eloping with no family or friends present, you're going to want someone you can rely on to get you from place to place and to help you enjoy your day to the fullest.
4. Don't forget to "really" treat yourself.
You're getting married after all. Treat yourself! Give yourself this opportunity to splurge as you would at a big wedding but focus more on quality than quantity.
We help you through the feeling process of the celebration and ritual of getting married.
The refined smaller details will look like you, from the stationery to the candle holders and ring boxes and all the table decor.
Though Paris is beautiful, it is only the canvas. When you look back on it, you're going to want to remember the little details that made your wedding special.
5. Don't leave out the people you love.
We want this to be a celebration about YOU. So there should be no pressuredt to invite everyone you know. However, we want you to be able to honor everyone you love, thaat may not have been able to make the trip for whatever reason!
That's why we try to take as many behind-the-scenes photos as we can, live to stream video special moments, and share content from your day through a special hashtag. If you're planning on a celebration when you get back home, we have some of the best videographers and photographers around to shoot you and provide footage for a viewing party that you can share with family and friends when back home!
//////////////////////////////////////////////////////////////////////////////////////////////////////////////////////////
THINKING ABOUT A PARISIAN WEDDING? We can help you – we've crafted elegant couple only elopements to scrumptious intimate ceremonies. Email us elopeinparis ( at ) gmail.com
SALUT! Join us on INSTAGRAM, PINTEREST, and YOUTUBE for more Paris Weddings and Wellness resources
PIN IT FOR LATER: