Small Wedding Cakes for Intimate Ceremonies
May 20, 2014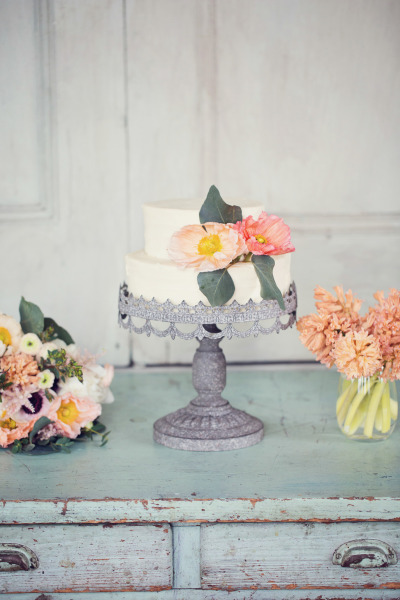 Typical wedding cakes in France are big and mostly made from puff choux pastry stacked in the form of the Eiffel tower held together with lots of solid sugar (caramel). They are called Pièce Montée or more specifically Croquembouche (meaning they crack in your mouth) – and they really do!
If you want to really integrate the french tradition in their ceremony you could often opt to have one of these and also a traditional american (or anglo) styled wedding cake – like many couples do.
To see what a Croquembouche looks like you can click here. I love them because despite being tall and messy to pick apart, it's perfect to feed a big wedding party. It's also always fun for me to put the sparklers on top and carry out the cake either to the couples table or before the first dance when I'm planning a bigger shindig. It's even more fun to see everyone figure out how to eat it!
Right now we're in the process of planning a 10 people intimate wedding and working with one of the best American Bakers here in Paris for an elegant yet simple cake. We're talking about creating a small tasteful cake that looks yummy and divine. Figuring out flavors, cake decor and possibly adding dummy layers to give it a more wholesome feel. For a small wedding – you can still have our cake and eat it too!
Don't overlook having a cake because you're having a smaller more intimate ceremony.
There are so many options to have one or two tiered cakes that we wanted to share some photos of some small cakes we really liking for spring.
We love planning fun and unique intimate ceremonies in Paris. Our approach is easy-going and friendly – (you'll find us running around Paris in costume jewelry and chucks!) – with an extensive knowledge of the city. We're dreamers and doers with grit and charm. If you're thinking or even just researching about having a small wedding, vow-renewal or anniversary celebration in Paris, we'd love to help.
You can hang with us other places on the net too:  FACEBOOK *** INSTAGRAM *** PINTEREST
xx
Yanique